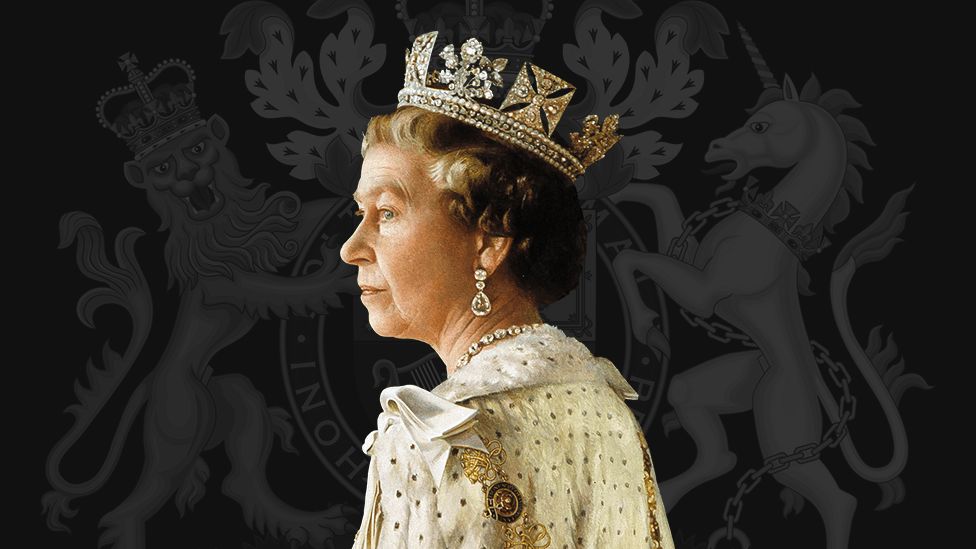 Queen Elizabeth II, the UK's longest-serving monarch, has died at Balmoral aged 96, after reigning for 70 years.
She died peacefully on Thursday 8th September 21022, in the afternoon at her Scottish estate, where she had spent much of the summer.
The Queen came to the throne in 1952 and witnessed enormous social change.
Her son King Charles III said the death of his beloved mother was a "moment of great sadness" for him and his family and that her loss would be "deeply felt" around the world.
He said: "We mourn profoundly the passing of a cherished sovereign and a much-loved mother.
"I know her loss will be deeply felt throughout the country, the realms and the Commonwealth, and by countless people around the world."
During the coming period of mourning, he said he and his family would be "comforted and sustained by our knowledge of the respect and deep affection in which the Queen was so widely held".
British Values at St John Vianney RC Primary
Schools, through their curriculum, are legally bound to teach and promote fundamental British values. These are values that have been attributed, by the government, to being British. They fall into the following broad areas.
Democracy- Respect for democracy and support for participation in the democratic process.
The Rule of Law- Respect for the basis on which the law is made and applies in England.
Individual Liberty- Support and respect for the liberties of all within the law.
Tolerance and Respect- Respect for and tolerance of different faiths and religions and other beliefs.
At St. John Vianney, we reflect British values in all that we do. We actively promote these values in the following ways:
Democracy
Provide pupils with a broad general knowledge of, and promote respect for, public institutions and services through discussion within curriculum work.
Teach pupils how they can influence decision-making through the democratic process through our well established School Council.
Include in the curriculum information on the advantages and disadvantages of democracy and how it works in Britain.
Encourage pupils to become involved in decision-making processes and ensure they are listened to in school. Pupil voice is very strong in our school and children all have a say through the channels of the School Council.
Organise visits to the local democratic establishments and visits from local politicians.
Hold 'mock elections' so pupils learn how to argue and defend points of view. Our elections for representatives for the School Council are run very professionally by the pupils!
Help pupils to express their views.
Model how perceived injustice can be peacefully challenged.
The Rule of Law
Ensure school rules and expectations are clear and fair. School and classroom rules and expectations are established with pupils.
Help pupils to distinguish right from wrong
Help pupils to respect the law and the basis on which it is made
Help pupils to understand that living under the rule of law protects individuals
Include visits from the police in the curriculum. Visits from Community Police Officers, their dogs and demonstrations from the Fire Service feature in our school calendar.
Teach pupils aspects of both civil and criminal law and discuss how this might differ from some religious laws
Develop restorative justice approaches to resolve conflicts
Individual Liberty
Support pupils to develop their self-knowledge, self-esteem and self-confidence through all interactions with pupils
Encourage pupils to take responsibility for their behaviour, as well as knowing their rights
Model freedom of speech through pupil participation, while ensuring protection of vulnerable pupils and promoting critical analysis of evidence
Challenge stereotypes through SMSC / PHSE work and assemblies
Implement a strong anti-bullying culture
Respect and Tolerance
Promote respect for individual differences
Help pupils to acquire an understanding of, and respect for, their own and other cultures and ways of life through curriculum work in religious education and circle time.
Challenge prejudicial or discriminatory behaviour
Organise visits to places of worship through our religious education work
Develop links with faith communities
Develop critical personal thinking skills throughout our curriculum work
Discuss differences between people, such as differences of faith, ethnicity, disability, gender or sexuality and differences of family situations, such as looked-after children or young carers
Spiritual, Moral, Social and Cultural Development (SMSC)
At St. John Vianney, we believe that the personal development of children is an important factor in their ability to learn and achieve. We therefore, consider it of unmost importance to provide an education with opportunities for children to explore, develop and understand their own and others' beliefs and attitudes.
All National Curriculum subjects provide opportunities to promote pupils' spiritual, moral, social and cultural development. This focus is embedded throughout our school curriculum and community. Opportunities for the development of SMSC range from English and RE (Religious Education) lessons through to assemblies, collective worship, charity work, visiting speakers and a wide range of extra-curricular and out of school activities. Of course, a significant contribution to the spiritual, moral, social and cultural development of our pupils is made through our school ethos and daily interactions with children.
Spiritual development
Pupils' spiritual development involves the growth of their sense of self, their unique potential, their understanding of their strengths and weaknesses, and their will to achieve. As their curiosity about themselves and their place in the world increases, they try to answer for themselves some of life's fundamental questions. They develop the knowledge, skills, understanding, qualities and attitudes they need to foster their own inner lives and non-material wellbeing.
Moral Development
Pupils' moral development involves pupils acquiring an understanding of the difference between right and wrong and of moral conflict, a concern for others and the will to do what is right. They are able and willing to reflect on the consequences of their actions and learn how to forgive themselves and others. They develop the knowledge, skills and understanding, qualities and attitudes they need in order to make responsible moral decisions and act on them.
Social Development
Pupils' social development involves pupils acquiring an understanding of the responsibilities and rights of being members of families and communities (local, national and global), and an ability to relate to others and to work with others for the common good. They display a sense of belonging and an increasing willingness to participate. They develop the knowledge, skills, understanding, qualities and attitudes they need to make an active contribution to the democratic process in each of their communities.
Cultural Development
Pupils' cultural development involves pupils acquiring an understanding of cultural traditions and the ability to appreciate and respond to a variety of aesthetic experiences. They acquire a respect for their own culture and that of others, an interest in others' ways of doing things and curiosity about differences. They develop the knowledge, skills, understanding, qualities and attitudes they need to understand, appreciate and contribute to culture.